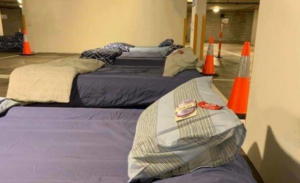 To prevent homeless people from sleeping on the streets in inhumane conditions, the Beddown foundation has decided to act. They had the brilliant idea of establishing secure shelters in places that are unoccupied overnight, such as parking lots, Australian news outlet 9 News reports. Between a few orange cones, soft beds are waiting to be slept in.
It was Beddown founder Norman McGillivray who came up with the idea while driving through an empty parking lot at night. After weeks of thinking, members of the foundation decided to make it happen. Interested in the initiative, one of the largest parking lot operators, Secure Parking, has agreed to start a two-week trial in Brisbane.
Read the full article by ULYCES by clicking below.
Support Our Cause
We believe everyone deserves a bed to sleep in.
Help Beddown provide rest and shelter to more people on the street by donating a mattress or becoming a volunteer.
Comments are closed.