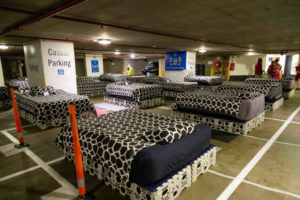 A non-profit organization in Australia has been established with the aim of putting beds in vacant parking lots so that the homeless can sleep there.
Norm McGillivray, the owner, says the idea came to him when he left a parking lot late at night and found it deserted.
For years, Norm had worked to improve the condition of the country's homeless, but now he could provide them with a comfortable place to sleep.
Norm recounts his life's events. His father, a prominent businessman, suffered a cardiac arrest that resulted in facial paralysis.His father lost his career, divorced his wife, and was forced to live on the streets. On the streets of London, he died absolutely alone… Norm was a young boy at the time.
Since then, Norm has devoted himself to helping the homeless through non-profit organizations. The fact that Australia is a first-world nation with over 8,000 people living on the streets seems to him to be a terrible contradiction.
Inflatable mattresses (with clean sheets) are placed in public parking lots through Beddown.
It has partnered with Secure Parking, Australia's and New Zealand's largest public parking firm, and they are looking to participate in approximately 600 parking lots, currently only in Brisbane.
Since they are inflatable beds, they can be set up and taken down easily, causing no disruption to the parking business and allowing them to be put in safe and clean areas.
It has also partnered with other agencies to provide facilities such as showers, laundry, food and drink, medical examinations, and clothes.
Hundreds of homeless people would be able to sleep in a bed as a result of his initiative.
Support Our Cause
We believe everyone deserves a bed to sleep in.
Help Beddown provide rest and shelter to more people on the street by donating a mattress or becoming a volunteer.
Comments are closed.