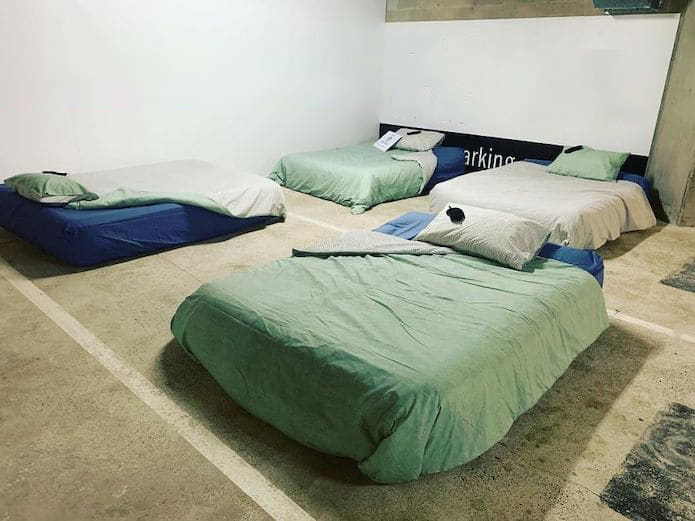 Beddown, an Australian organization, places beds in a public garage to house homeless people at night.
People with a decent heart who only pursue the protection of their neighbor are becoming accustomed to assisting those in need, which is why the Australian Non-Governmental Organization (NGO) Beddown has thought of its most needy citizens and put beds in a public parking lot.
The foundation did not hesitate to use unoccupied garage space at night to house men on the streets who face numerous threats, including not only health issues but also the risk of being attacked. They assured that not having a set location and not knowing where to spend the night causes tension and depression.
The parking lot transforms into a 'popular hotel' in the evenings. The Secure Parking company was contacted by the Foundation staff to provide some beds, pillows, blankets, and duvets for overnight guests. They are welcome to use the on-site showers and toilets. In addition to providing care from stylists, physicians, and dentists, the homeless also profit from the supply of fresh clothing.
"We seek to give them a comfortable space so they can have a good night. It is our aim. We hope to have a great impact," said the creators of Beddown from Australia."
As a result, the charitable foundation helps a segment of the population that has no other choice but to sleep on the streets because they cannot afford to pay for anything better. This is a concerning circumstance that has a significant effect. As a result, there are a plethora of non-governmental organizations (NGOs) committed to seeking a solution for these individuals, some of which act as a conduit between the homeless and local governments.
Support Our Cause
We believe everyone deserves a bed to sleep in.
Help Beddown provide rest and shelter to more people on the street by donating a mattress or becoming a volunteer.
Comments are closed.