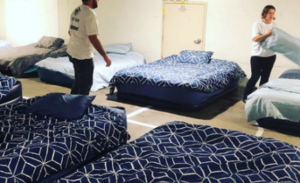 The issue of homelessness is one that a lot of people like to turn a blind eye to, looking away in the other direction as if it doesn't even exist.
Australian charity Beddown works with a parking company to test how their idea works. The idea is to provide a bed for those without a place to sleep in places they are not used in the evening. Such as some parking garages.
The Australian Secure Parking company has gone into this as well, and a two-week trial is underway in Brisbane to see if it works.
Support Our Cause
We believe everyone deserves a bed to sleep in.
Help Beddown provide rest and shelter to more people on the street by donating a mattress or becoming a volunteer.
Comments are closed.