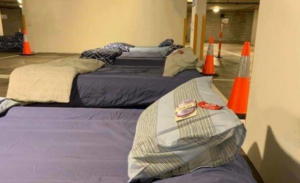 A parking lot has begun a new plan to assist the homeless by providing mattresses and other essential resources for them to use through the night.
The dilemma of people living on the street is one that can not be overlooked, and it is one that many groups are now addressing in order to assist them, since they are both vulnerable to diseases and victims of crime.
In this regard, an Australian organization named Beddown came up with the concept of assisting the city's homeless in some way with the aid of the Secure Parking firm, which is in charge of parking management.
The two came to an agreement to carry out this plan, and now the parking lot, which is closed at night, can be used as a homeless shelter.
In addition to toilets, showers, medical check-ups, and stylists, mattresses with blankets and pillows will be placed in this area so that the homeless can spend a better night.
"We seek to give them a comfortable space so that they can have a great impact," explained one of the people in charge of Beddown.
Support Our Cause
We believe everyone deserves a bed to sleep in.
Help Beddown provide rest and shelter to more people on the street by donating a mattress or becoming a volunteer.
Comments are closed.