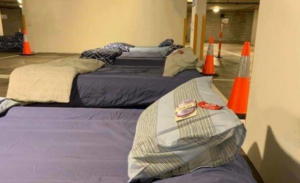 The Australian organization Beddown wanting to prevent the homeless from being subjected to the risks of the street, had the brilliant idea of transforming a parking lot into a safe place for those who need it.
This transformation takes place when there are no cars, that is to say at night.
For this reason, they contacted the operator called 'Secure Parking' with which they reached an agreement to launch a test of this idea in Brisbane.
Full article from Periodico Correo
Support Our Cause
We believe everyone deserves a bed to sleep in.
Help Beddown provide rest and shelter to more people on the street by donating a mattress or becoming a volunteer.
Comments are closed.