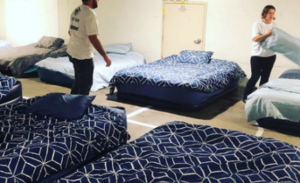 In countries all over the world, the issue of resettling homeless people persists. It has a variety of concerns, including community and personal protection. A charity in Australia called "Beddown" recently launched an experiment to address the issue of sleep deprivation and discovered Australia's largest parking lot. During the night, the operators partnered to turn the parking bay into a "sleep bay," complete with a cozy double bed, enabling street friends to sleep soundly.
According to extensive international media accounts, Brisbane has had a long-standing problem with homeless people. These homeless people can sleep on the street with only newspapers or cardboard boxes to cover themselves, resulting in inadequate sleep, which leads to substance addiction, public protection, and alcohol abuse. And there are other problems. It was planned to launch a two-week sleep experiment as part of the charity "Beddown's" study, in the hopes of helping homeless people recover their trust in life.
During the night, the charity "Beddown" partnered with the parking lot operator to place several double beds in the grid of an indoor parking lot. A total of 41 volunteers were enlisted, with 77% of them being men and 23% being women. Their medical treatment, hair salon, new clothing facilities, and, most importantly, a comfortable bed are all available. Both of the experimenters said they felt comfortable during their stay, according to the results two weeks later.
"It's been a long time since I had a decent night's sleep," one of the street friends said. "After all of the things I need to do each day, lying in bed reminds me of the wonder of life." Another street friend said, "I've scheduled this procedure." "I've had a good night's sleep these past few nights, and I'm not relying on narcotics. During the day, I am more alert. For at least eight days, I will not need medicine."
Norman McGillivray, the founder of the charity "Beddown," said that everyone was happy and satisfied with the results after careful preparation. The biggest achievement is addressing many possible issues and supporting the homeless.
Support Our Cause
We believe everyone deserves a bed to sleep in.
Help Beddown provide rest and shelter to more people on the street by donating a mattress or becoming a volunteer.
Comments are closed.