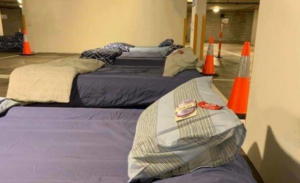 A non-profit organization in Australia is redefining urban areas to make them more welcoming to homeless people. The Beddown organization converts parking lots, which are heavily used during the day but vacant at night, into dormitories.
Having a good night's sleep is a major issue for those who live on the streets. Not only because of the cold, but also because they are afraid of being assaulted and having their belongings stolen. Sleep deprivation, according to the NGO, can lead to issues such as depression, diabetes, hypertension, memory loss, and a decline in cognitive function, making an individual more vulnerable to drug and alcohol abuse.
"By providing a safe and comfortable place for people to rest at night, we help restore their health, dignity and respect to our guests," explains the NGO on its official website.
The pilot project, which included nine beds, was carried out in collaboration with a Brisbane carpark network. The outcome was a success: 41 people used the service, 77 percent of whom were men and 23 percent of whom were women; guests rated the quality of their sleep at 4.5 out of 5, and 100 percent said they felt comfortable on site. A 15-year-old was the the youngest person to avail of Beddown's offer.
In addition to the assistance of social workers, the NGO collaborates with other businesses to provide medical care, hairdressers, clothing, and a place for visitors to bathe.
Support Our Cause
We believe everyone deserves a bed to sleep in.
Help Beddown provide rest and shelter to more people on the street by donating a mattress or becoming a volunteer.
Comments are closed.