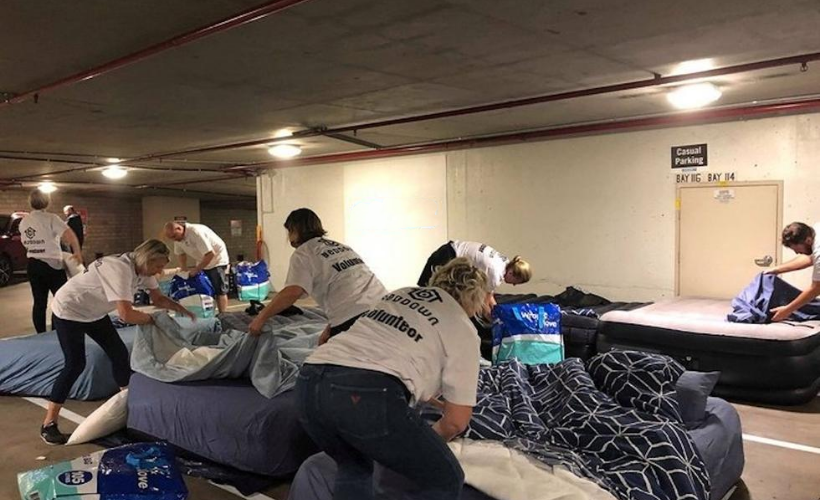 Homelessness is a problem in every country. These individuals may be ill, unemployed, or otherwise unable to maintain a stable residence. They have no choice but to sleep on the street, covered in cardboard boxes or newspapers.
Faced with this dilemma, the Australian charity organization "Beddown" agreed to lend a hand and provide a good night's sleep to the street mates.
The explanation for this is that the creator, Norman McGillivray, saw an empty parking lot one night and thought to himself, "Why not offer these vacancies to my street friends for night placement?"
As a result, "Beddown" held a meeting with the local parking lot operator to rent an empty parking lot at night to set up beds, and the operator agreed to a two-week trial.
This parking lot is still open to the public throughout the day after careful preparation, and bunks are set up at night for street friends. The "Beddown" organization also enlisted the help of volunteers such as physicians, nurses, dentists, and hairdressers to treat their bodies and hair.
According to statistics, a total of 41 homeless people visited during this period, 77% were men, 23% were women, and the youngest was only 15 years old. "Wandering for so many years, I had a good dream when I slept for the first time,"  the homeless beneficiary said. "After a week here, I had a good night's sleep. After doing things every day, it reminded me of my normal life."
Support Our Cause
We believe everyone deserves a bed to sleep in.
Help Beddown provide rest and shelter to more people on the street by donating a mattress or becoming a volunteer.
Comments are closed.