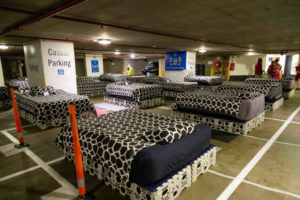 That's My Spot is a proud supporter of the non-profit initiative of Beddown, an organisation providing temporary pop-up accommodation for homeless Aussies across the nation. Beddown accomplishes this through incredible innovation using a wide array of underutilised city infrastructure – starting with car parks.
By partnering with car park operators across Australia, Beddown has pioneered new opportunities to maximise the use of our cities for wider benefit. When parking lots clear out at night in busy city centres, left vacant and unused until morning, Beddown gets to work putting up sleeping spots for some of Australia's most vulnerable populations. Clean, colourful sheets and warm beds fill parking spaces in the place of cars, providing respite to some of the 8,000 homeless Australians across the country.
Beddown's mantra is "Everyone Deserves a Bed to Sleep in". But beyond just beds, Beddown aims to provide the homeless with showers and laundry, health and wellbeing, as well as monthly haircuts and clothing donations. Much of this is achieved through donations and volunteers, from corporate partnerships and public donations.
Beddown also fosters a sense of community. The spaces it sets up are a safe space for people sleeping rough to commune. With the support of financial benefactors, and volunteers, Beddown silently addresses the much deeper issues the homeless experience – mental health, depression, memory impaired cognitive function, and drug or alcohol dependence. Initiatives such as Beddown build a community around them to support this.
If there is one final relief Beddown's mission provides, it is to the impending safety concerns the homeless otherwise contend with when they are forced to take refuge under a bridge, or on the street at night. In such circumstances, there is an intense vulnerability to one's person or possessions, and many live in constant fear they will be robbed or attacked.
Every Aussie deserves better.
The issue of homelessness in Australia is one that has always resonated with me. Last year, I participated in Vinnies CEO sleepout – where I experienced what it was like to sleep rough for just one night alongside other likeminded CEOs. The experience was incredibly impactful and only cemented how easy it is to take something as simple as your bed for granted.
If you would like to get involved in volunteering or donating for this non-profit cause concerned with providing people with refuge in the deepest sense of the word, you can find out more about how to do that here.
"Everyone Deserves a Bed to Sleep in" goes beyond warm bed sheets on a cold night – it extends into restoring the physical and mental wellbeing of one of the most vulnerable demographic groups in our nation. Beddown is an incredible and transformative motion towards making our cities work better – for everyone.
Regards from That's My Spot founder, Angelique Mentis.
Website – https://thatsmyspot.com.au/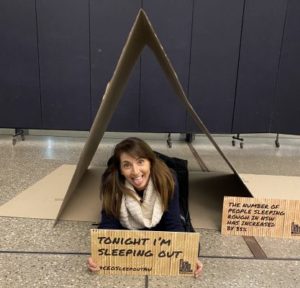 Comments are closed.