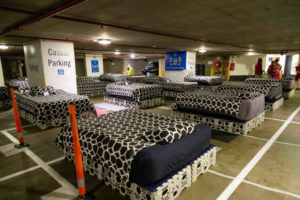 Beddown is a non-profit organization based in Australia that has devised a novel method of ensuring that the homeless have a place to sleep at night.
The key goal is to repurpose public spaces that are used during the day but abandoned at night, transforming them into "emergent accommodation" that provides a rest area for the most vulnerable.
The organization also collaborates with other organizations to provide additional facilities such as washing, baths, and canteens.
According to Beddown, many homeless people are deprived of sleep as a result of their living conditions on the streets, which can lead to a variety of issues including depression, asthma, obesity, memory loss, and alcohol or substance abuse.
"By providing a safe and comfortable place to get a good night's rest, we help restore health, dignity and respect for our guests," they explain.
For the time being, the concept is collaborating with Secure Parking, Australia's largest car park provider, which has agreed to reuse certain spaces to ready them for the remainder of its night guests on a trial basis.
In the near future, the team hopes to collaborate with other spaces and organisations, such as meeting rooms.
Support Our Cause
We believe everyone deserves a bed to sleep in.
Help Beddown provide rest and shelter to more people on the street by donating a mattress or becoming a volunteer.
Comments are closed.